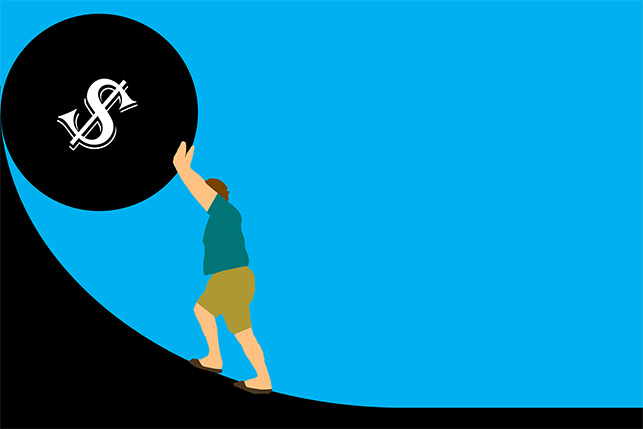 Thinking about filing for bankruptcy in Oklahoma? There's a lot of information on the web, but it's difficult to find what is true, what is right for you, and it can be almost too much to figure out on your own. Eggert Law Firm has helped clients work through these financial hardships and knows just how emotional and stressful these times can be. We also know what working with an experienced partner can do for a family.
The first question we can help you work through is, is bankruptcy right for you? These cases are nuanced. Having someone who has gone through this experience before can help you answer the basic questions to determine whether bankruptcy is an option, and more importantly whether it is the right option for your family.
What You Need to Know About Bankruptcy
In the state of Oklahoma there are two different types of bankruptcy filings for individuals: Chapter 7 Bankruptcy and Chapter 13 Bankruptcy. Both of these are serious and only an option if you are facing a significant amount of debt. If you cannot pay things like your utilities or medical bills, if your home is about to be repossessed, or your home is about to be foreclosed upon, then you might consider filing for one of these options.
Eggert Law Firm is highly experienced in filing both Chapter 7 Bankruptcy and Chapter 13 Bankruptcy cases. While you can file for bankruptcy on your own, hiring an attorney can make sure that you are well protected, make the right decisions for your family, and that you are given the fairest terms possible under these two filing options. Together, we'll review your financial hurdles and determine whether one of these is an option. Then we'll make a plan for how to best proceed.
Chapter 7 Bankruptcy
Also known as "Straight Bankruptcy" this is the faster of the two options. Chapter 7 Bankruptcy clears you of most of your debts quickly. However, you may have to give up some of your property in order to file this type of bankruptcy. Every case is unique. The creditors in your case might accept certain forms of property as repayment for your debts. Our attorney can help you navigate filing this type of situation and make sure that you are protected throughout the process. The process differs in every state, which is what makes picking a local firm to represent you so important.
Not all property is eligible as collateral for debt repayment, and the terms can be a bit tricky here. Different parties may also vary in their valuation of your property. Working with an experienced attorney can help you efficiently and effectively resolve your debts so that you can get back to living your life.
Chapter 13 Bankruptcy
While not as immediate, Chapter 13 Bankruptcy works with the individual to develop a plan for repayment of your debt. This is also known as a debt adjustment. In this case, you are less likely to have to give up your property as long as you keep to the schedule of repayment. This usually happens over a 3-5 year span. Chapter 13 Bankruptcy is most commonly used to pay off debts like large medical expenses, significant credit card debt or loans, or overdue taxes.
Bankruptcy Counseling
Whether you choose to file with an attorney or own your own, you will need to complete bankruptcy counseling. The organization you work with must be approved by a U.S. Trustee. And the counseling must happen no less than 180 days before filing your case. We can work with you to help find an approved counseling organization and that the timing is just right for your specific case.
Let Us Take it From Here
We'll take over the communication with your creditors. You have a lot to worry about. The last thing you need is to be hounded during this process. When we go through your financial situation, we'll gather a list of your creditors and take on communication with them. This will also ensure that all communication is official, and that you are protected throughout the entire process.
Bankruptcy Consultation
Schedule a meeting with our team today and start resting easier with a fair and timely plan to get out of debt. This questionnaire can help you gather all of the information you'll need before your consultation, and can help answer some of your questions before you arrive at our offices.
We're always here for you. If you have questions on how to prepare for your consultation, or throughout the process, simply give us a call.